Home Contents Previous Chapter Next Chapter Photos
---
10 - Farming - a Way of Life
Stillington Main Street runs roughly East to West along a ridge, the land falling away to the north, east and south. Houses on both sides originally had long gardens running down to a back lane. A number of these were farms with forage and grain stores behind the house, housing for pigs, hens, and horses, and for cattle, which after milking were led along the back lane to outlying fields. Six examples existed in the 1970's, and two now remain. A number of post-enclosure farms can be found outside the village, with the farmhouse and buildings surrounded by their fields.
The soil dictates the type of farming, and in the village it is generally good Everingham Aeolian soil, sand over clay, with the east end of the village tending to be more clay than sand. It is generally over pH 7.0. Close to the village, south and west towards Moxby, Sutton and Huby it is all light and sandy, and so good arable land. To the north and east from Brandsby Road towards Marton it is heavier clay and makes good pasture. The introduction of lime, grant aided in the 1940's by the Ministry of Agriculture, made the heavy land more workable. Within this broad picture there are pockets of sand and clay, for example Sugar Hills at the top of the lane from the Marton Road to Marton Priory. In 1998, in the parishes of Stillington and Marton, the Archdiocese and the Church Commissioners owned 1300 acres, five farms and the old Vicarage.
The pre-enclosure map of Stillington has field names which indicate areas of wood, pasture, meadow, and pear trees. The four fields were Craike Park Field, North Skew Field, Carr Field and Ing Field. These, along with the common wastes, meadows and pastures were enclosed following the Act of 1776. The enclosure award lists eighty two names. The largest single award was 51 acres 2 roods and 32 perches [20.92 hectares] to John Sowray and the smallest - 1 rood and 2 perches [0.105 hectares] to Robert Field. Other awards go the Ann, William, Robert and James Field, John and Thomas Wilkinson, William North and Roger Bellwood. The names North and Bellwood can still be found in the village. Twenty people had awards of between 2 and 3 acres or approximately 1 hectare. The Vicar, the Crofts, Grace Sherwin and Thomas Tinniswood have more than one award, and were the major landowners.
Enclosure made a tremendous improvement to the productivity of farming and so to prosperity, as evidenced by the number of 18th century brick farmhouses on the main street. John Tuke's 'General Views of the Agriculture of the North Riding of Yorkshire 1800' claims:
'the improvement made upon the open fields and wastes after the inclosure has been very great, principally by the adoption of the turnip and clover husbandry, and by the cultivation of artificial grasses, the stock has been greatly increased in numbers and still more in value and the crops or corn rendered so much superior to what they were when the fields were in their open state and fallowing was practiced, that there is nearly as much corn grown as when the whole was arable by inclosing waste lands, large tracts that were of inconsiderable value is now brought into culture ... and the number of labourers increased also'. ... 'Very few of what may be called large farms are anywhere to be met with, the Riding being generally occupied by tenures of moderate extent'
In 1778 the York Agricultural Society awarded its prize of three guineas (the equivalent of about £175) for the best potato crop grown on a rood of land, to George Hutchinson of Stillington. His crop was one hundred and twenty and a half bushels. That is 4,386 lbs on a quarter of an acre or just under twenty tonnes per hectare.
In the South of England William Cobbett was drawing attention to the very poor wages of the agricultural worker of 8 shillings (40p) per week. In the North Riding, Tuke states
'...no people are better paid, work harder or are more economically maintained than the farming servants of the district ... To these early habits, may much of the future comfort of this class be fairly attributed'.
Women worked very extensively on the land. Again, Tuke says:
'The dairy is entirely theirs and they perform at least half the harvest work; they labour at that season with the men ...; they weed the corn, they make the hay, they mould the fields and perform a multitude of the lesser occupations of husbandry ... . At home when the weather or season does not permit the labours in the field, the women spin flax or wool chiefly for the use of the family'.
In the 1970's women were still hand roging [weeding] corn.
According to Marshall in 1788 specific changes in agriculture following enclosure included 'the greatly increased meat produce ... perhaps threefold'. In the arable world rape 'brings most money into the county'; other crops included oats, barley, pulse, wheat, grass, clover, turnips, potatoes [for cattle and swine] flax and tobacco. So it was not the Common Market that introduced rape to North Yorkshire; although the 18th century rape was not oil seed rape - but rape grown for its green tops as part of the root rotation and used as feed for sheep.
From 1910 onwards the growth of motor transport caused a decline in the number of horses. The 1914-1918 war had a major effect. Fifteen percent of men employed in agriculture in June 1914 had left by July 1915. Some went into the armed services, others to the developing war industries. Wages were still above the national average. Whereas the 1914 army allotment compared with the normal wage in the southern counties of England and Wales 'they were substantially lower than the customary earnings of the northern workers'. 1916 saw the start of subsidies for sugar beet and in 1925 the sugar beet factory opened in York.
1921-9 saw an agricultural depression with 100,000 acres going from cultivation to grass and rough grazing. During the 1930's the main potato crops of 'Majestic' and 'Redskin' sold for £2.50 a ton - if you could find a market. Wheat was 'Little Joss' and 'Standard Red'. Twenty five hundredweight to the acre was a good crop. There was a five year rotation of crops - grass, oats, wheat, roots, barley and grass. The oat crop was for army and racehorse use, sold for £2.50 a ton to Bannisters or delivered to Easingwold station. In 1934 wheat was £4.50 a ton delivered to Easingwold station. The lowest price Tom Yorke's father could remember. About 1938 varieties changed with yields going from twenty five hundredweight an acre to today's two, three, four and more tons per acre. Fertiliser was a phosphate, potash and sulphur mix used at one to two hundredweight per acre. In the 1990's half a ton per acre, and more was used.
Dairy shorthorns were home bred. Bullocks were fattened, reared gently on grass, wintered twice and sold for beef at about three years old. Good flavour! The sheep were Mashams and reared as fat lambs. A young girl usually caught the sheep for the clipper. Clipping by hand-shears taking up to half an hour each. Many clipped sixteen a day - a very few fifty two. Today, with electric clippers a sheep is shorn in about five minutes.
In 1932 fields were about eight to twelve acres each and ploughing was with horses. The traditional one acre a day was still the norm. Ploughing was at a depth of three inches on grassland and four inches for corn. Today the standard is five inches. In 1938 tractors were used, first the little grey 'Fergy' and then the standard Fordson. By 1942 horses finished altogether on some farms but they were used on others until 1956. In 1997 a man ploughed 800 acres with a second man following drilling and sowing, in nine or ten weeks. In the 1930's cleaning out a foldyard by hand was a week's work. Now, a tractor can be in the yard loaded up and out in six minutes.
In the 1930's cattle were fed oats, but increased scientific knowledge proved there was more nourishment in barley, and cattle were fed half -and-half. By 1951 oats had gone completely out of fashion and barley remained. The barley was kept for home consumption and the wheat sold. The rotation changed with more grass and two or three consecutive crops of wheat. One local farm recently had its eleventh consecutive crop of wheat. The third crop was troublesome, but subsequent crops increased each year.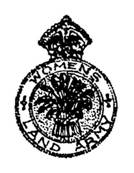 During the 1939 - 45 war, the German submarine blockade greatly reduced the amount of food imported. The government was determined that the country should not reach the near starvation levels of 1917. One of the steps taken was the re-introduction of the Land Army who had been so successful in the 1914-18 war. All women over eighteen who were not in a reserved occupation or had small children, were required to join the women's branch of the armed services, the armaments industry, the hospital service or the Land Army. Girls were paid £1 2s 5d (£1.16) per week by the farmer, and the Land Army provided a uniform of four Aertex shirts, corduroy jodhpurs, fawn overalls, green pullovers, socks, wellingtons, big strong brown shoes, a green tie, trilby hat and badge. Clothes were rationed for civilians but these clothes did not require coupons, and were replaced whenever a girl asked for them - and they had plenty.
A number of girls came to Stillington to work on the farms. Several married local farmers and have contributed memories to this history. Bessie, from Leeds, who became Mrs Bessie Yorke, did not wait to be called up, but volunteered in 1940. As a volunteer she was able to choose where to come. Her sister's farm at Farlington had applied for a land girl and the authorities at Morley did not know it was a relation. The medical inspection simply consisted of a comment 'you look fit enough anyway'. Work included helping with morning milking, hoeing, pulling turnips and mangolds and taking the milk, in ten gallon churns, to the village by horse and cart. Milking was by hand - morning and evening - and in the middle of the day for newly calved cows. The hens were Rhode Island Reds, Brownley Gold and Light Suffolks. They were free range, let out fed and watered in the morning, and again in the afternoon when the eggs were collected. At dusk they were shut in the hen huts to protect them from foxes. About forty hens were kept to each hen house. They bred their own chickens with one cock to twenty hens. Eggs were hatched in April. Chicks were kept in a hut with a warming light for about a month, then gradually let out in a wire run till they started feathering. They started laying at about twenty four weeks.
Bessie had a fortnight's holiday a year but no travel passes. Recreation included dominoes at the Blacksmith's Arms, and village dances, travelling by bicycle to Sheriff Hutton, Flaxton and Sutton on Forest, coming back at 2am; the dance cost 6d [2Ĺp] started at 9pm and finished at 12.30am and had a live band. A bus ran on Saturday into York travelling via Brandsby, Crayke, Stillington and Sutton on Forest leaving at 8.30am returning at 12.30pm. To go to the pictures at the Empire, the bus left at 6.30pm returning at 11pm. On Thursdays there was one bus at 10am returning at 4pm. Farlington had an annual Sports Day with mens' races, chasing a cockerel which Bessie won once, chasing a greasy pig and a fancy dress dance.
Bessie and Tom Yorke married in 1943. They started with five cows and fifty hens. Bessie helped with feeding, milking and the calves. She also made butter and cream for sale to a local lady who had a market stall. Quantities varied according to the milk available. Cattle feed included turnips, cut by a hand-turned machine and rolled oats. Feeding Tom and the farmhands included morning lunch at 9.30am, dinner at 12 midday and afternoon break at 3pm - tea and something to eat. At harvest they had '6 o'clock' outside, a sandwich, scone, a piece of pie and a piece of cake. When they finished they had a warm meal at night. Flour for bread, teacakes, scones and cakes came from Bannisters at Easingwold. A 14lbs [6.5 kgs] bag lasted a month. Bannisters used to come for orders on Thursdays, for delivery the next Monday. Later Bessie biked to Stillington, took the bus to Easingwold, delivered her order, visited the bank for wages and did general shopping.
At threshing time there was a team of fifteen men. Tea for morning break was provided in an enamel bucket with sandwiches and scones. Dinner included Yorkshire pudding, a joint of beef or meat and potato pie. Three o'clock was provided but the men went home for their tea.
Audrey, who became Mrs Audrey Shepherd and now lives at Marton Park Farm, came to Stillington from Redcar, aged seventeen, in September 1945. This was four months after the end of the war in Europe, but food was still in very short supply and direction of labour continued. She had no formal training but came straight to one farm, which she didnít like, and then to Sparrow's White Bear Farm. One grandfather and several uncles were farmers, so this helped. Work included milking cows, leading horses to work in outlying fields, drilling potatoes, turnips, carrots and oats, slashing hedges and picking potatoes and beet. Mrs. Sparrow skimmed milk to make her own butter; there was a bottling plant for the milk which was delivered round the village by van. Picking potatoes was not a favourite job. The potatoes were spun out from a horse-drawn machines or spade-lug tractor, picked up by hand, put in buckets then stored in the field in a 'pie' or clamp. A great mound of potatoes protected from the weather by straw at the bottom, then potatoes, more straw and then covered with earth.
The farm workers included two German prisoners of war who lived in the farmhouse. Other prisoners of war (some as young as sixteen) lived in a hostel at Thirkleby and the army brought them in daily by bus for jobs such as potato picking.
Pigs were kept by a Miss Carter on South Back Lane near where Don Austin currently has his glider container workshop. In the 1940's many people had a pig, fed on waste, which they killed for meat. There were still pigs kept at the bottom of Jim Cussin's garden in South Back Lane in the early 1970's.
Farming is still very important in the life of Stillington. There are some large fields but also some small ones. Potatoes, sugar beet, barley, wheat, grass, rape and flax are still important crops. Potatoes are planted and harvested by machine rather than hand. They are not stored in field 'pies', but temperature and humidity controlled barns where they are graded and bagged in 25 kg bags, or (mainly) sold in a 25 tonne bulk container loads. Straw is carried to stack yards in huge bales weighing half a tonne each. The army no longer requires hay or oats for its horses. Much grass is now made into silage rather than hay. The weather is still important for the harvest but modern machinery allows the shorter straw grain to be safely harvested even when there are adverse conditions, the grain being dried (at a cost) and stored in silos.
B.S.E. (Bovine Spongiform Encephalopathy) has badly affected the local beef and dairy farmers. Even if their own animals have not been infected, cattle over 30 months old can not be used for human consumption. Older cattle have to be slaughtered and incinerated, leading to a heavy fall in prices. This, together with marked falls in the price of sheep, pigs, grain and milk, causes severe financial concern for local farmers.
There are still a number of large gardens some with spare produce for sale at the gate, with money just left in a tin. Visitors from the south are astonished. We live a privileged life in this village.