Home Contents Previous Chapter Next Chapter
---
8 -
Images of Stillington
Village Green showing Village Hall and the timber framed house that was taken down and sold to USA

York Road junction showing Primitive Chapel

High Street from York Road junction

Main Street looking towards Hall - Bay Horse on the right

Main Street before 1907 showing cottages demolished when School & later BATA store and shop were built

Adults: Jane North (left) Mrs Robinson (right)

Village School 1907, showing the wall dividingthe girls' and boys' playground

Water Mill - Farlington Road

Stillington Hall with Head Gardener Spencer Corbett, c 1920

St Nicholas' Church 1998

Village Transport abut 1905 - wagon used for weekly delivery from Mill in Long Street, Easingwold

Ernest Wood (left) Mr J Hodgson (right)

Celebrating of the Coronation of George VI - May Queen 1937

Left to right:Jeff Shepherd, Eric Metcalfe, Charlie Morfoot, Margaret Averill, Peggy North.

Building Coach for the procession, Boat and Lighthouse for the Village Pond, in Hall stableyard.

Left to right Roger Kerrison, Bert Thompson, Algie Richardson, Charlie Thompson
Main Street - BATA shop 1920's

John Hutchinson

Stillington Post Office 1940's

postman William Appleby

Corn ricks in stackyard, South Back Lane 1942

Thomas Aynsley (81yrs)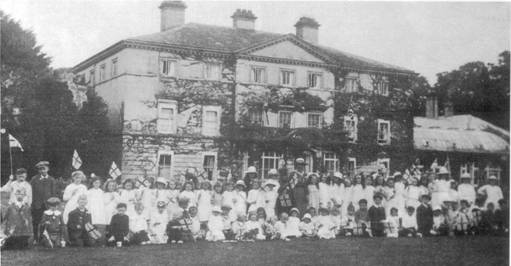 Peace Celebrations at Stillington Hall, July 1919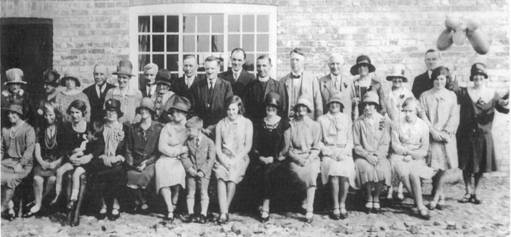 Opening of Village Hall - September 1929.
Back row left to right: Miss Tenniswood, Mrs T Hugill, ?, Tom Horner, Dick Wood, Miss Tenniswood, Tom Lofthouse, Spencer Corbett, John B Hutchinson, Rev H W Smith, Dr C H Bullen, Dr & Mrs Hughes, Louise Maskill, Mr E E Newman (church organist), Mary Farrow, Mrs Newman
Front row left to right: Isobel Souter, Nellie Hope, Elsie Tindall, Charles Hutchinson, Mrs C H Bullen, Mrs W H Metcalfe, Mrs H W Smith & Donavan, Lily Corbett, Mrs Corbett, Mabel Denton, Elsie Neesom, ?, Mary Horner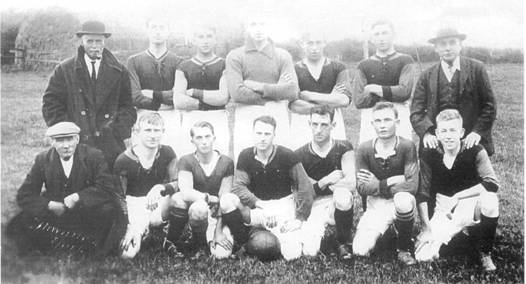 Stillington Football Team early 1930's
Back row L-R:: ?, George Wood, Alan Redshaw, Norman Wood, Bill Burnett, Arthur Barker, Tom Horner
Front row L-R: ?, Owen Atkinson, Billy Redshaw, Arthur Denton, Richard Wood, ?, George Burnett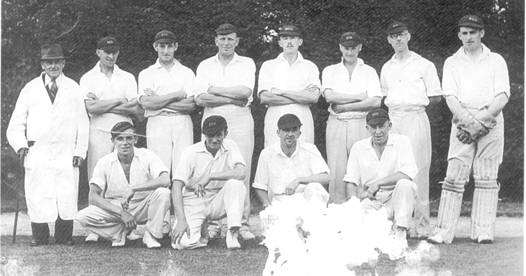 Stillington Cricket Team 1950's
Back row left – right: Tom Horner (Umpire), Eustace Burnett, Rich Wood, Arthur Midgley, Leslie Moreland, Henry Otterburn, Charlie Denton, Norman Wood
Front row left – right: Jack Scaife, Cecil Wood, Cecil Hugill, Bill Burnett.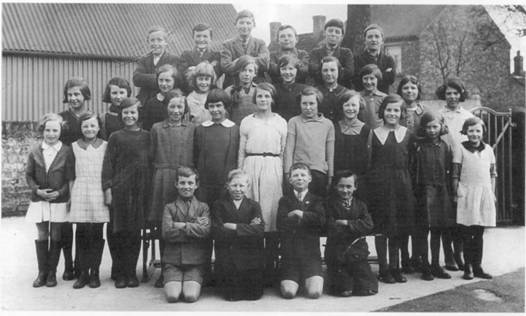 Stillington School 1930
Back row L-R: Frank Atkinson, Cecil Wood, Bob Gibson, Raymond Moreland,Leslie Hutchinson, Cecil Hugill
3rd row L-R: Amy Woodward, Betty Denton, Edna Hugill, Peggy North, Betty Crowther, Gwennie Dixon, Marjorie Smith, Muriel Hardy, Eileen Vester, Stella Smith
2nd row L-R: Lilly Davis, Lucy Grice, Cynthia Skaife, Nancy Simpson, Margaret Averill, Mary Atkinson, Mina North, Joan Grice, Nancy Bradley, Joyce Simpson, Katie Grace
Front row L-R: Raymond Souter, Frank Yorke, John Vester, Norman Mothersdale.